Despite the recent spate of adverse news regarding Uber, the concept behind Uber and Airbnb - or more generally, a technology-enabled sharing economy - is here to stay and will have a significant impact on the future of every major industry, including eldercare.
We are all familiar with the disruptors in eldercare that have been discussed in every major conference in the last year: elder adults prefer to age in place (only 10% of elders are in communities); technology enables delayed transition through the continuum; older adults want to remain in the workforce or at least engaged in contributing to society; staffing challenges and the coming leadership turnover; amongst others.
There are a few other disruptors that will also play a major role in shaping the future of eldercare:
Acceptance of sharing, by families and boomers.
Voice technology as a transformative social force.
The entry of technology bigs into the eldercare technology space (Amazon, Google, Apple and Best Buy).
The recognition by CMS that addressing social determinants of health can reduce the overall cost of long term healthcare and creating CPT codes to reimburse for telehealth (telemedicine and remote monitoring).
What do older adults need as they age? The old measures were comfort, safety, medical assistance and socialization. The emerging metrics add self-reliance, engagement and purposeful living to the equation. Also, a significant portion of those in older adult population do not have the savings required to afford senior living communities as they age.
I'd like to mention three organizations that are using technology to address these new metrics: the Village to Village Network, SilverNest, and Best Buy Assured Living.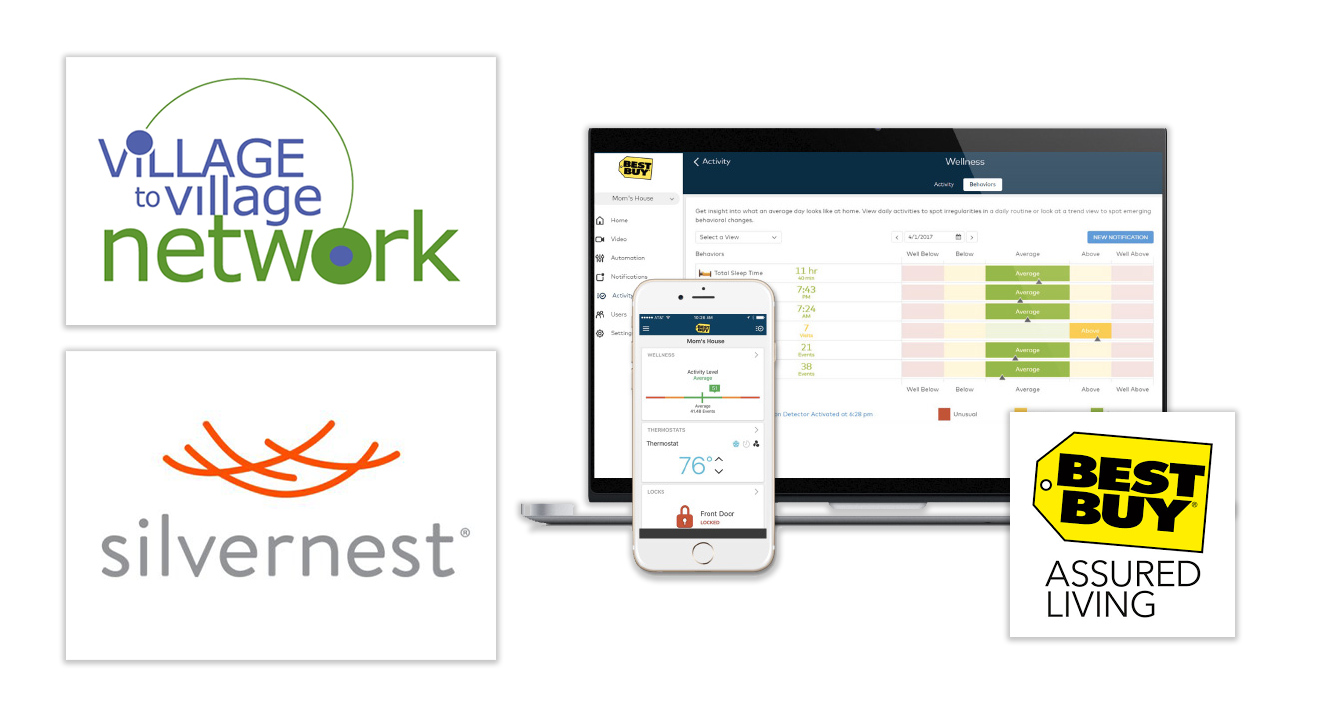 The Village to Village Network has seen a dramatic growth over the last decade, from 56 villages in 2011 to almost 400 villages that are active or in development across 45 states and Washington D.C. Villages are member-run organizations that enable members to help each other age in their communities and their homes. Membership fees and services vary from village to village, but they range from simple ride sharing and light home maintenance help to daily check-ins and full social calendars. Many also have a robust partnership with local home care agencies to coordinate care for members.
SilverNest is connects homeowners (typically boomers) and seniors looking for a home. The benefit is extra income, savings and companionship.
Best Buy Assured Living: Who knew that Best Buy had a Senior Technologies division? Best Buy's 2018 acquisition of GreatCall for $800 Million puts this (former?) big box retailer squarely in the eldercare game. With this acquisition, Best Buy's Assured Living program finally has the potential to become the 800-pound gorilla in the aging-in-place / connected home market. Just add the (Silver) Geek Squad and the recently acquired Critical Signal Technologies capabilities to the mix and you have an extremely potent enabler for aging in place. Their in-home consultation offers guidance on the sensors needed in the home (including motion sensors, wireless blood glucose monitors or scales, thermostats, voice-enabled lights and appliances) and any PERS wearables for the older adults. The Silver Geek Squad installs the solution and the Assured Living customer center provides 24/7 monitoring and predictive analytics that will spot and alert caregivers to any deviations from routines. This will help identify and head off problems like major falls or adverse events. The monthly monitoring and analytics services are about $30 per month, no matter how many different sensors you install.
A NEW MODEL
Here's a model for a New Village which would offer the traditional village network services, with the addition of the SilverNest capability to increase companionship and the economic viability of aging in place. It would be backstopped with a Best Buy Assured Living services platform. The village can supplement its volunteer force with Lyft, local Home Care agencies and even delivery services like GrubHub or PeaPod/Amazon PrimeNow. This infrastructure will enable every home to become an assisted living facility. This is the "Uberization" of eldercare that I believe is on the horizon - and a business model disruption that senior living providers need to prepare for.
This is not a theoretical exercise: Carepods is an organization in Winston-Salem, North Carolina that is bringing this concept to life as a for-profit business. Joe Coughlin, Director of the MIT Agelab, calls this "Home as a Service."
We have yet to factor in new technologies like exoskeletons, robots, and self-driving cars; we will leave them for a future discussion.
What would I do if I were an eldercare CXO? I would do everything in my power to make my staff comfortable with these transformative technologies and unleash their creativity on making their jobs easier with innovative applications. It is imperative that senior management takes the lead.
Create a technology strategy plan that mirrors the strategic business plan.
Dissolve the walls of the community and create community-based aging-in-place programs that leverage technology and information; maybe create your own version of CarePods. This may cannibalize your move-ins in the short term but it prevents long-term attrition to competition from new entrants.
My last thought, for those that observe that I see technology as a solution to every issue:
"Technology is not the answer to every major problem, but it's one heck of a lever against what seems like an immovable rock of eldercare for the other 90%!"
Ravi Bala is Co-Founder of HealthSignals, a leader in Wi-Fi, Cellular Booster and VoIP solutions for Senior Living and LTPAC communities. He isa thought leader focused on business model changes inEldercare driven by changes in technology and social acceptance of the sharing economy.
Photo Credit: http://cdn.kreezalid.com/kreezalid/files/2/sharing_economies.jpg